Welcome to
Ziva
Online Store !
Ziva Maternity Kit: a must-have Hospital Kit for all expectant parents
7990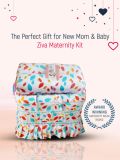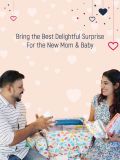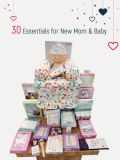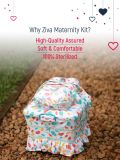 Details
MATERIAL

100% cotton fabric

SALES PACKAGE

Pack of 30 Essentials

CARE GUIDE

Gentle wash, Warm iron, Do not bleach, Dry in shade, Wash dark colours separately
CHARACTER

White cotton cover with leaf designed

HOSPITAL BAG SIZE

46 X 35 X 28 CM

IDEAL FOR

Newborn & New mom
For NewBorn
Ziva Maternity wear assures each and every item to caress your newborn hope. The included products will be so mild and gentle on the babies. Baby's clothing and essentials including
Baby Jabla Clothing - 9

Baby Nappy - 6

Towels for laying - 6

Hood towel

Baby Bib

Mitten

Bootie

Baby Cap

Head Rest

Baby Pillow

Baby changing sheet

Cotton wipes - 12
Dry Sheet M

Reusable fabric diaper S

Baby bed sheet

Baby Bath Towel

Baby blanket

Burp Cloth - 3

Baby Romper – 3

Sleepsuit

Cap

Side Pillow - 2

Wooden toy
For New Mother
Reward the new mom's strength and patience with Ziva goodies designed to keep her happy and comfortable. Our prestigious products to ease new mothers include
Maternity Pad - 5

Bra Extender - 3

Nursing Pad - 2

Maternity Belly Belt

Ziva Zuzu - 10

Nursing Cover
A Hospital Bag for keeping baby's items
This maternity hospital bag (Storage Box) is made of food-grade virgin plastics. Storage Container comes with twister lid for easy opening, Strong and durable for longevity, Easily stackable, and nestable for storage. The design on it makes it look different, 100% white cotton cover with leaf designed in pink, blue and yellow.
The perfect Pregnancy Hospital Bag
Why choose Ziva Maternity Kit?
Nothing compares to your baby's big day and packing the hospital bag can be one of the most stressful items on your to-do list. After all, you never know when the little fella will make an appearance! So it's worth having your hospital bag packed in advance, just in case. Well, Ziva has put together its special Maternity Kit keeping all the necessities of a newborn and a new mother in mind. It is a great survival kit!
FAQs
Which month should I pack my hospital bag?

You should have your hospital bag ready to go between weeks 32 and 35 of your pregnancy, in case your baby comes a bit earlier than expected.
What is the nature of the fabric for baby clothing?

We choose the ideal fabric for maternity wear and we make sure the material is breathable and non-allergic.
How many wipes do I get in this maternity kit?

There are 12 cotton wipes in this maternity kit.
How many pieces of baby clothing are there in this kit?

In Ziva's Maternity Kit, are a total of 27 pieces of clothing made specifically for babies. These include Baby Jabla Clothing (9), Baby Nappy (6), Baby Bib, Mitten, Bootie, Baby Cap, Burp Cloth (3), Baby Romper (3), Sleepsuit and Cap.
Why should I use the nursing pad?

Nursing pads, also called breast pads, are a very useful breastfeeding accessory. Placed into a regular or a nursing bra, they can absorb breast milk from leaking breasts to help prevent embarrassment, and protect your clothing from stains.
What is the purpose of bra extenders?

Bra extenders are small pieces of fabric with hook and eye closures that attach to your current bra to extend the length of the band. Bra extenders are a practical hack for pregnant women, serving to elongate the band if it feels tight or provide more hook options if you find yourself between band sizes.
What is Ziva Zuzu?

For most women, it is difficult to find a proper place to urinate while on travel as they are forced to try at public comfort stations, compromising on hygiene. Besides, urinating while standing is more or less a struggle for women which often forces them to hold their urine until they find a proper place to release it.

Pregnant women are more vulnerable to infections and they might find it difficult to sit down especially when they are heavily pregnant.

To combat this, Ziva introduced the Zusu, a urination device that helps women relieve themselves while on the move.

The device is made with paper which is in the shape of a boat. One end is open and wide enough to urinate in and it will flow through a small opening on the other end.
Shipping
Orders received on working days before 11.00 a.m. will be dispatched on the same day and those received after 11.00 a.m. will be dispatched on the next working day.
Goods will be dispatched through a reliable courier service.
Products will be delivered within 2-3 days if your address comes within city limits. Delivery might take 2-5 days if the address is in rural belts. The time frame might vary for certain places which are not easily accessible.
Return
At Ziva, we are not looking at anything less than 100% satisfaction of our customers.

Due to Covid19 Spread we do not allow return or exchange of products
Contact us:
Be it a query, complaint or suggestion we would love to hear from you.

Email:- info@zivamoms.com
Phone:- +91 73562 44775
Wash Care

Gentle wash
Warm iron
Do not bleach
Dry in shade
Wash dark colours separately